U.S. Department of Housing and Urban Development
Office Secretary of Ben Carson
451 7th Street, SW
Washington, DC 20410


FRAUD AND CONSPIRACY CLAIM

I, Douglas A. Pelmear, as president of Horse Power Sales.Net, Inc. (HPSN), and HP2G, LLC (HP2G), do hereby make a formal complaint of fraud and conspiracy surrounding a Henry County Revolving Loan Fund (HUD Funds). Each and every instance in the following narrative is corroborated by documentation, many of which is already filed in court record, or, is part of Public Records Requests. The fabrication of documents, forgery, conspiracy, civil rights violations, willful concealment and willful and wrongful lien to show willful intent, are present in the elaborate scheme. It is impossible to cover the entirety of the width and depth of the complicity by all various parties in this complaint.

JURISDICTIONAL OVERVIEW
This claim encompasses the three jurisdictions of Henry, Fulton and Defiance Ohio County. The Sheriff of each county has received this same complaint. All parties and all interest are now co-mingled as a result of fraudulent and fabricated documents by government agencies and by judges' decrees based upon those fraudulent documents.
The Office of Inspector General (OIG) of Housing and Urban Development (HUD) will be receiving a copy of this complaint at their request and they recommended contacting the applicable local authorities.
Horse Power Sales.Net INC is a corporation in Henry County. HP2G, LLC is a Limited Liability Company located in Fulton County. Both businesses are publicly recorded as such.
Maumee Valley Planning Organization, (MVPO) acted as a third party RLF loan administrator for The Henry County Commissioners and Fulton County. MVPO was a major originator of the fraud and conspiracy. MVPO's Main office is in Defiance County.
Thomas A. McWatters, III is an attorney for MVPO. He is also Wauseon's City Law Director, Special Counsel for the Ohio Attorney General with an office operating in Fulton County. Many emails produced by public records request originated from his (McWatters) office.
I, Douglas Pelmear, HSPN and HP2G would welcome a joint investigative effort by the three jurisdictions of Defiance County, Henry County and Fulton County.

BRIEF OVERVIEW OF THE HENRY COUNTY RLF LOAN TO HPSN
HPSN inquired about the Block Grant Program (HUD) from Henry County to purchase and update the shop in Napoleon, Ohio. Unbeknown to HPSN, an RLF loan was finalized and disbursements made directly to two third party vendors, which were attorneys. In other words, the disbursements did not pass through HPSN per the loan agreement. Nevertheless, HPSN had every intention to repay the loan. From this point on, it becomes clear that a conspiracy was in play resulting in the failure of HPSN and of HP2g LLC.


JUDGEMENT ENTRY FILED NOV 02, 2016 IN DEFIANCE COUNTY COMMON PLEAS COURT, CASE 13CV42628, BASED UPON A FRAUDULENT DOCUMENT
Herein contains the foundation upon which this complaint is now being put forth. The judge cited a document, known as the "actual loan application submitted by HP2G," as reason to dismiss. It was also cited as being "Of the most significant uncontested facts established by evidence." The fact is contested and the referenced document was a complete fabrication by MVPO.
Also cited by the judge was a reference "that the anticipated use of the RLF was to secure a patent---." It's vital to know that patents or patent pendings were never part of any agreement connected to the RLF loan.

BRIEF TIME LINE AND EXPANATION
Jul 14, 2009: Contested Document, Dennis Miller, Exec. Director of MVPO executes the required "APPROVAL LETTER" to be sent to the borrower for the borrower's signature and date before the loan can proceed. (EXHIBIT 2 MVPO 02208) The letter outlined terms and conditions.
Note: The borrower was cited as HP2G, LLC. not HPSN.
Note: Letter was never sent to HP2G, LLC, much less signed or dated.
Note: HP2G never received any funds, but was listed in a UCC1 lien by MVPO for more than 6 years.

Aug 04, 2009: MVPO presents to The Henry County Commissioners (HCC), a "RESOLUTION" to be approved for the RLF loan to Horse Power Sales.Net, Inc., not HP2G, LLC.

Note: MVPO states the borrower as Douglas A. Pelmear, dba, HPSN. Fact, Douglas A. Pelmear or HPSN never filled out an application, or received an "Approval Letter" to be signed and returned as required by policy. Fact, Douglas A. Pelmear always acted as an officer of the corporation, not as an individual.
Note: MVPO states that a check to be written directly to attorneys. The legal fees were viewed by HCC and MVPO as an integral part of the RLF loan in that they could place a lien on all intangibles and end up with the patent upon failure of the loan.
Note: Judgment, Nov 02, 2016 cited the patent. Fact, HPSN never had control of the loan disbursement and patents were never subject to the loan process.

MAY 25, 2010: MVPO filed a wrongful lien and FINANCING STATEMENT ON HP2G covering all assets, tangible and intangible. (EXHIBIT 3) No notice was given to HP2G of UCC1 Lien.

MAY 28, 2010: Contested Document, MVPO commits fraud upon the court by submitting EXHIBIT 1 MVPO 01449-01458 into the court proceedings referenced above as "the actual application." The title of this document is "Application Form Henry County Revolving Loan Fund. This Exhibit was fraudulently fabricated, on this date, for only one possible reason; to give legal standing for filing the May 25, 2010 lien upon HP2G and all its assets.

VERIFICATION OF FRAUD OF THE "APPLICATION FORM HENRY COUNTY REVOLVING LOAN FUND – APPLICANT HP2G, LLC
On page one of the "Application" under "Business Description" it says, "Please see the attached Business Plan for more detail. In the Exhibit MVPO 01455, an html address appears on the footer followed by a download date. This verifies this so-called Business Plan was attached to the "Application" on MAY 28, 2010, not part of a process that began in July, 2009.
In addition, MVPO included a letter dated MAY 17, 2010 from a patent attorney. (EXHIBIT 1 MVPO 01458)
CONCLUSION: The application is a complete fraud. It never existed until MAY 28, 2010 as evidenced by the download date and accompanying letter date.

JUNE 01, 2010: An audit of the Henry County RLF program by the Ohio Dept of Development listed the borrower as HP2G, LLC, not HPSN as was on "APPROVAL RESOLUTION" of Aug 04, 2009 signed by the HCC.
In addition, the audit cited MVPO for not having an "Administrative Agreement" with Henry County to act as loan administrator.

Jul 22, 2010: MVPO signed an "Administrative Agreement" with Henry County; however, MVPO requested a back dated "effective date" of Jan 01, 2010.
Question: Why did MVPO back-date only to Jan 01, 2010 and not to July, 2009? The assumption would be that MVPO needed to ex post facto an agreement, at least, cover the time period of the wrongful filing of the lien on HP2G, LLC.

Jul 17, 2013: Email from Dennis Miller (MVPO) to Vicki Glick, HCC Clerk. Dennis Miller succinctly provides the thinking (motive) on the part of MVPO and HCC. Dennis Miller's comment on his confusion between HPSN and HP2G makes no sense. How can he say "at the time of closing it was my belief that HP2G was a business operating in Fulton County" when MVPO's own "RESOLUTION" cited HPSN of Henry County? MVPO and HCC, in essence, admit the patent provided the motive to file against HP2G. Almost every word of this email is an admission to the intent of the fraud and conspiracy.

Jul 19, 2013: Email from Thomas A. McWatters III, attorney for MVPO, to
Dennis Miller. Two days after the above email, Attorney Thomas A. McWatters III, outlines a conspiracy that "would require some participation/assistance by the Sheriff. What if we issued a writ for all Mustangs..." He goes on, "It would also give the commissioners (and you) a chance at some pay back against Pelmear." He further states, "I would assume there would be some satisfaction gained from collection all his mustangs!"
This email chain contains all the parties to the conspiracy, all the Commissioners, Clerk, Attorney and MVPO director. (COLLINS Dictionary defines "Pay Back" as: take your revenge on them)
How is "pay back against Pelmear and some satisfaction gained from collection all his mustangs" justified by MVPO, Henry County Commissioners and Thomas A. McWatters III?

Aug 26, 2013: In Case No. 12CR0098, a trial held in Henry Common Pleas Court, Henry County Commissioner, THOMAS VONDEYLEN, testifies to obstruction of a loan to "Doug Pelmear of HP2G." THOMAS VONDEYLEN further testifies he "did have conversations with Mr. Wendt from Henry County Bank." THOMAS VONDEYLEN further states; "I told him that if I was an investor (in his bank) I would be upset if he invested, or if he had given money because I didn't think it was a worthwhile loan." The date of this meeting with Mr. Wendt was around August 11, 2009. (Court transcript available upon request)




THOMAS VONDEYLEN'S CONFLICT OF INTEREST, INTERFERENCE OF RIGHT TO CONTRACT, VIOLATION OF CONFIDENTIALITY
I, Douglas Pelmear, expected to receive bank loans to satisfy the RLF loan requirements. In fact, part of the "Guidelines and Lending Policy" manual states the RLF is not to replace bank financing and that private-sector financing must be at least 35% of the total project.
Thomas VonDeylen, in essence, squashed the access to the required private-sector loans. How far did Thomas VonDeylen's influence spread?
Thomas VonDeylen was a member of a group which approved the RLF loan and then, he, in turn, tried to block necessary private-sector financing. My, Douglas Pelmear, "Constitutional Rights" were certainly violated by Thomas Vondeylen discussing loans with any bank. The "Henry County Revolving Loan Fund Revised Guidelines and Lending Policy" manual clearly prohibits all of Thomas VonDeylen's actions and shows a Conflict of Interest.

Aug 31, 2015: Thomas A. McWatters III files PRAECIPE FOR WRIT OF EXECUTION on behalf of Maumee Valley Planning Organization and Henry County Board of Commissioners. The Sheriff complied with the WRIT. The WRIT was the culmination of the Jul 19, 2013 email conspiracy to "grab anything he has and have it sold" plus gaining the "pay back" and gaining "satisfaction."
The WRIT was illegal in that it stated "or any other property titled in the name of Horse Power Sales.Net, Inc." Every vehicle on that location was titled to Douglas Pelmear, dba, Horse Power, an Ohio Licensed car dealership, not to HPSN. Furthermore, the vehicles were a lien for collateral in a separate private loan.

Jul 28, 2016: HP2G files MOTION FOR SUMMARY JUDGEMENT, Case No. 13CV42628 in the COURT OF COMMON PLEAS, DEFIANCE COUNTY.

Nov 02, 2016: The judge dismisses Case No. 13CV42628 and a companion case 13CV42618 based upon the "uncontested facts established by the evidence" and "the actual loan application underlying this controversy was submitted under the name of HP2G, LLC."

Dec 02, 2016: Douglas Pelmear, pro se, files a MOTION TO SET ASIDE DISMISSAL under Civil Procedure 60(B)(3) Fraud to enter new evidence into the record.

Dec 15, 2016: The judge denies MOTION TO SET ASIDE.

Dec 27, 2016: Douglas Pelmear, pro se, files a MOTION TO SHOW CAUSE under Rule 60(B)(3). This motion detailed the fabricated "Application Form Henry County" that the judge referred to as an "uncontested fact."

SUMMARY
The above account contains a fraction of the totality of combined actions of Maumee Valley Planning Organization, Henry County Commissioners, Thomas A. McWatters III and possibly others. The RLF loan meets the criteria of a predatory loan. Documents show the lender and loan administrator going after assets which they had no right to encumber. It is apparent that all the participants must have acted together to obfuscate the truth or ORC 2923.32 Engaging in pattern of corrupt activity. (1) No person employed by, or associated with, any enterprise shall conduct or participate in, directly or indirectly, the affairs of the enterprise through a pattern of corrupt activity or the collection of an unlawful debt.
(2) No person, through a pattern of corrupt activity or the collection of an unlawful debt, shall acquire or maintain, directly or indirectly, any interest in, or control of, any enterprise or real property.
RLF loans were made without Administrative Agreements in place. Borrowers were not apprised of the process that required an "Application" and an "Acceptance." Douglas A. Pelmear's signature was forged on many documents. Personal assets were seized. Wrongful liens were filed on entities that were not party to any agreement. Documents were fabricated and back-dated when and where needed to satisfy audits and legal standing. Possible perjury has occurred in certain trials and depositions. The Public Record at the Ohio Secretary of State has been compromised. The list goes on.
Most importantly, the life and livelihood of me, Douglas Pelmear and the associated entities have been extremely damaged. The time value lost from not being able to capitalize on a new engine technology cannot be quantified.
It appears that without a criminal investigation, everything I, Douglas Pelmear, have a lost of $900 Million USD as a result of conspiracy, denial of civil rights and fraud. Thus far, I have been denied due process and procedure per the 14th Amendment. I now come forth to submit this complaint and ask for a criminal investigation and prosecution of the violators.


Start listening at 23:30 of the recording.
After a potential investor group found a UCC1 lien on HP2g LLC, I contacted then Henry County Commissioner Richard C Myers. In turn, Richard notified MVPO. MVPO gave this letter stating it was a mistake and would release the lien on HP2g LLC, but never terminated the UCC1 lien properly on HP2g LLC prohibiting the funding of the business. The UCC1 lien should have expired on May 25,2015 but MVPO extended the lien till May 25, 2020 on Jan 9, 2015 one day after I received the Court Audio of Thomas VonDeylen posted above.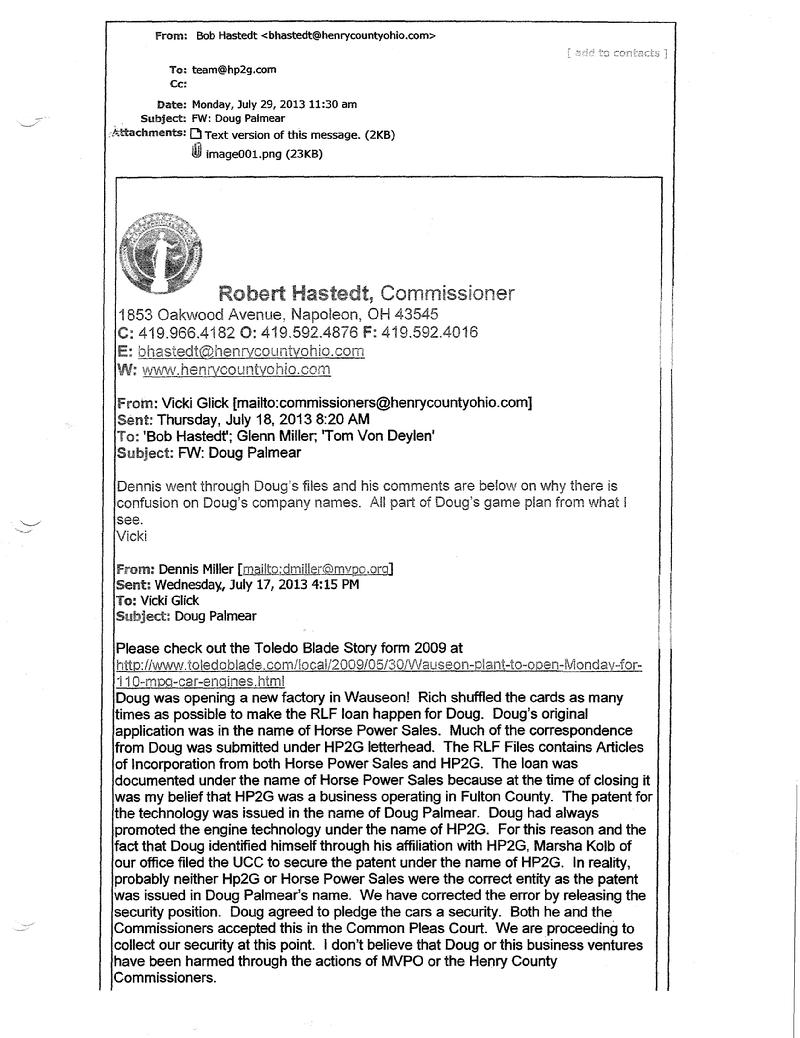 Henry County Explanation
Dennis Miller Executive Director of MVPO in a letter to Henry County Ohio Board of Commissioners wrote and I quote "The patent for the technology was issue in the name of Doug Palmear. Doug had always promoted the engine technology under the name of HP2g. For this reason and the fact that Doug identified himself through his affiliation with HP2G, Marsha Kolb of our office filed the UCC to secure the patent under the name of HP2G. In reality, probably neither Hp2G or Horse Power Sales were the correct entity as the patent was issued in Doug Palmear name. I don't believe that Doug or his business ventures have been harmed through the actions of MVPO or Henry County Commissioners." MVPO and Henry County Commissers were always trying to get the HP2g Engine Patent!
Horse Power Sales.net Inc. got a RLF Loan from Henry County Ohio.
Security for the RLF Loan was a 1993 Ford Mustang Convertible and 1965 Ford Mustang only.
Douglas Pelmear had no personal guaranty for the RLF Loan of Horse Power Sales.net Inc.
Patents and Trademarks were never a guaranty on the RLF Loan of Horse Power Sales.net Inc.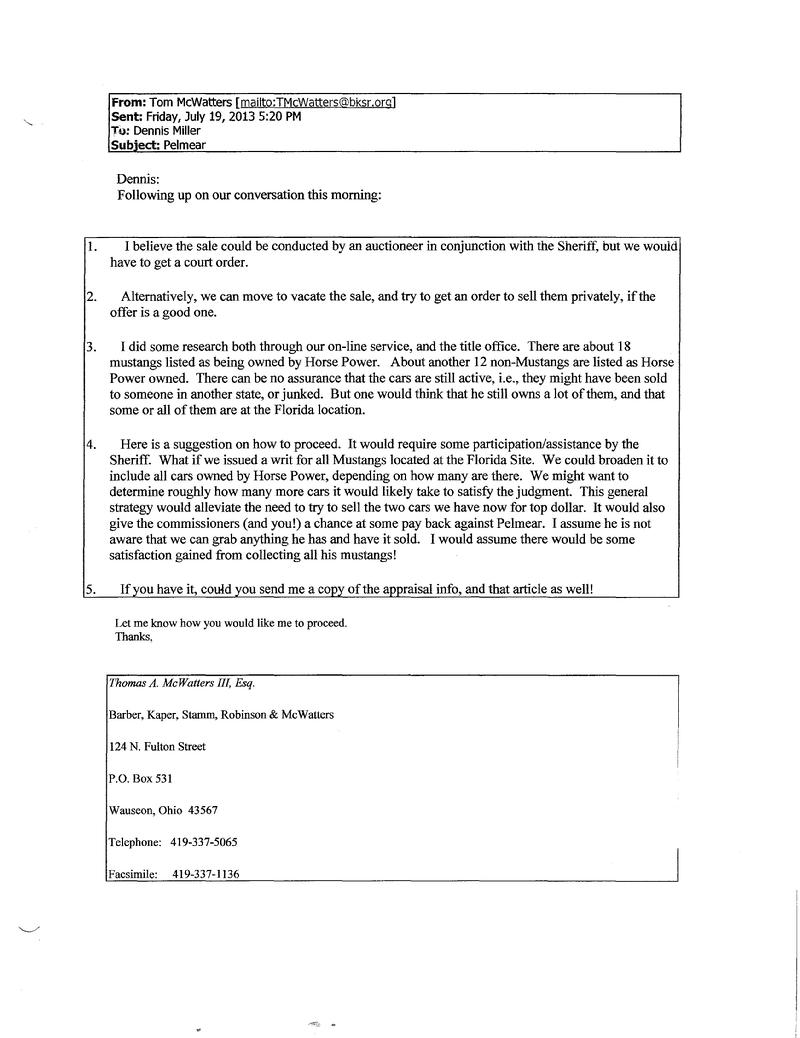 Attorney McWatters Letter
Attorney Thomas A McWatters III wrote to MVPO RLF administrator of Henry County Ohio Board of Commissioners a letter July 19, 2013.
This letter conspires a plan how to broaden a writ to get all of the cars from douglas pelmear including the two cars which were collateral in the RLF loan documents for Horse Power Sales.net Inc. Here is a quote "It would also give the commissioner (and you) a chance of some payback against Pelmear! I would assure there would be some satisfaction gained from collecting all his mustangs!" THIS IS A THREAT against Pelmear

contact info

HP2g.com
403 Hill St.
HP2g.com reserves all rights.
Web Hosting powered by Network Solutions®